Off-Page SEO Service
Unlock Off-Page SEO Excellence for Your B2B SAAS Company!
In the fiercely competitive B2B SAAS landscape, securing a prime spot on the top page of search results, where 71% of valuable clicks are concentrated, is a strategic imperative. To achieve this, your company needs a tailored off-page SEO and backlink profile strategy.
Unlocking the Power of Off-Page SEO for B2B SAAS Companies
In the fiercely competitive world of B2B SAAS, achieving top rankings in search engines is non-negotiable. But what exactly is off-page SEO? It's the art of enhancing your website's visibility and search engine ranking through organic results, like those on Google's search engine results pages (SERPs). The process involves meticulously preparing your website for SERP inclusion, producing top-tier content, and establishing authoritative backlinks. When your website appears prominently in SERPs for specific keywords, it's more likely to capture the attention of users searching for relevant information. Clicks on your link translate into visits to your website, potentially converting these visitors into valuable leads.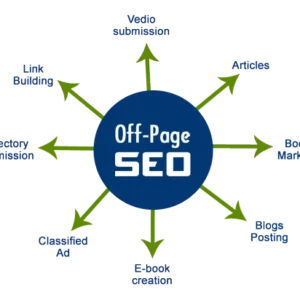 At ExpGrowth, we specialize in off-page SEO services tailored specifically for B2B SAAS companies. By partnering with us, you can bid farewell to the stress and risks associated with unethical link-building strategies employed by some agencies. Rest assured, our off-site SEO services are built on reputable, ethical practices that foster genuine connections to your website. These connections not only bolster your backlink profile but also put your business in front of customers genuinely interested in your products and services. Experience the transformative power of our off-page SEO services, designed to propel your B2B SAAS business to the forefront of search engine rankings. Join us on the journey to unlock unparalleled online visibility and reach.
Why Off-Page SEO Matters for B2B SAAS Companies
SEO is more than a way to drive traffic and bring website leads!
Off-page SEO isn't just about driving traffic; it's a testament to your website's significance in the digital realm. Every external link directed to your site is akin to a signal of confidence in your website's quality from another credible source. Search engines, in their quest to rank websites on search engine results pages (SERPs), view these external endorsements as crucial indicators of a website's authority and trustworthiness. Off-page SEO serves as the tie-breaker when websites have similar on-page SEO strategies. It enables search engines to differentiate and decide which site deserves the top spot in search results. Factors like the quantity and quality of backlinks to your website are meticulously assessed by search engines like Google. By evaluating off-page SEO parameters, along with on-page factors, search engines deliver highly relevant search results to users. Think of off-page SEO as your website's invitation to the digital wedding of search engine rankings. Without it, your website may remain unnoticed and uninvited. Join us at ExpGrowth Digital to harness the power of off-page SEO, a critical component for B2B SAAS companies looking to excel in the digital landscape.
Related Types of Services We are Offering
Expand your business with our various types of services!
Why Off-Page SEO is Essential for B2B SAAS Companies
Improve your brand's image and exposure through off-page SEO service!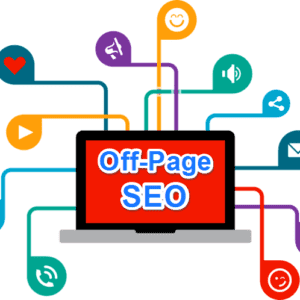 In the ever-evolving world of search engine algorithms and strategies, the value of off-page SEO remains unwavering. Off-page SEO, characterized by factors like relevance, reliability, and authority, continues to wield significant influence over a website's ranking potential. While search engines continually update their algorithms, the consensus is clear: a well-executed off-page SEO strategy remains crucial for achieving high search engine rankings and greater visibility.
The benefits of embracing off-page SEO service for B2B SAAS companies are abundant:
Higher Search Engine Rankings: When strategically targeted keywords are integrated, search engines reward your brand with higher placement in their search results. This increased visibility ensures more eyes on your brand, fostering greater customer engagement and trust. 
Enhanced Website Exposure: Expanding your reach beyond your website leads to increased visitor attraction. As more users are drawn to your website, your rankings naturally rise, creating a virtuous cycle of attracting and converting potential customers.
Multiple Domain Referrals: Search engines consider the number of referral sources a website receives when assessing rankings. A higher volume of reputable referrals not only bolsters your brand's trustworthiness but also fuels sustained traffic growth.
At ExpGrowth, we recognize the pivotal role of off-page SEO in catapulting B2B SAAS brands to the forefront of search engine rankings. Elevate your brand's image and expand its exposure through our expertly crafted off-page SEO services. Join us to embark on a journey towards improved search engine rankings, greater visibility, and unrivalled brand recognition.
Why Choose ExpGrowth for Your Off-Site SEO Needs?
Get a seasoned partner with ExpGrowth who has years of SEO knowledge!
When it comes to selecting an off-site SEO service provider, businesses worldwide are turning to ExpGrowth. Partner with ExpGrowth, and let's elevate your off-site SEO to new heights. Experience the benefits of our expertise, client-centric approach, and commitment to delivering results.
Here's why organizations of all sizes, from small enterprises to global corporations, opt for our expertise.

Extensive SEO Experience:
ExpGrowth boasts years of invaluable SEO knowledge. We understand that when you invest your marketing budget in an SEO agency, you seek tangible returns. Our seasoned team ensures your investment yields the desired outcomes, whether it's increased visibility, leads, or revenue.
We don't just measure success by website traffic or rankings. ExpGrowth assesses the impact of our off-page and on-page SEO strategies in terms of tangible business metrics. We focus on the key performance indicators that matter most to your business, ensuring your objectives are met.
Exceptional Client Retention
Our impressive 91% client retention rate speaks volumes about our dedication and commitment to our clients. Businesses consistently recommend ExpGrowth to peers and associates, underscoring our role as a long-term partner and supporter.
Dedicated Account Managers
With ExpGrowth, you gain more than an off-site SEO service provider; you acquire a dedicated account manager who becomes an extension of your team. Easily reach out to them with questions, concerns, or inquiries, and expect swift, personalized responses.
We understand that one-size-fits-all strategies are inadequate. ExpGrowth conducts in-depth evaluations of your website and backlink profile to create a customized approach that aligns with your business goals and unique requirements.
Our off-page SEO services are designed to offer a strong return on investment (ROI). Your costs depend on factors such as your business's marketing needs, annual sales, and budget. ExpGrowth's off-page SEO specialists evaluate your current online presence to develop tailored local SEO packages that maximize ROI.
Effective Off-Page SEO Techniques Tailored for You
Link Building Services: Our specialized link-building services are designed to secure valuable backlinks from authoritative websites to your platform. We employ a range of strategic approaches, including social media marketing, link development, and targeted article creation, to enhance your off-page SEO profile.
Guest Posting: Harness the power of guest posting, a potent off-page SEO strategy. With our guest posting service, we facilitate content submissions to renowned websites in your industry. This not only fosters valuable backlinks but also establishes your brand as an authoritative voice in your niche.
Social Media Bookmarking: Elevate your website's ranking on leading search engines through social media bookmarking. Our strategies encourage users to bookmark your site in their browsers, increasing its visibility. We achieve this by skillfully promoting your website links on platforms like Twitter, integrating them into popular social bookmarking sites, and setting up RSS feeds.
Choose ExpGrowth to deploy these meticulously curated off-page SEO techniques and watch your B2B SaaS company thrive in the digital landscape. Our tailored solutions ensure that your off-page SEO efforts align seamlessly with your business objectives.
Get A Free Instant SEO Audit Report Now
Off-Page SEO Service FAQs